Multilingual / WPML
Nyla is tested and certified by the WPML official team. WPML is the best known WordPress plugin for multi-language websites. WPML makes it easy to build multilingual sites and run them. It's powerful enough for corporate sites, yet simple for blogs.
Have a look at the WPML Website for more information and documentation.
How to setup WPML with Nyla theme
After you installed the wpml plugin, go through the wpml setup. In the "language Switcher" step, it is recommended to NOT add the switcher to the menu,widget or footer. Instead, activate the Theme switcher in Theme Options > Header & Menu > WPML
Duplicate pages,post for translation
The duplicate option is the recommended option to create the translations for your pages. Because, if you're using the '+' icon to add translation, it will not duplicate the content, and for pages,posts with a lot of pagebuilder elements, you will need to recreate all these elements and structure. So instead, use the duplicate option.
This is the only way you can copy/duplicate the pagebuilder content.
To do so, go to your page,post,portfolio you want to translate and check the Duplicate checkbox of all the languages you want to translate and click on the "Duplicate" button.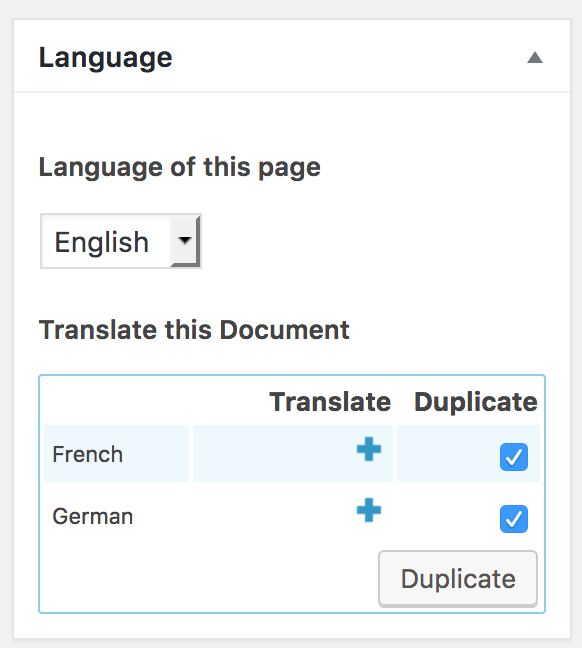 Once you've done this the page has been duplicated and you can now edit the wanted language of this page.
When you decide to provide any page,posts,portfolio project in different language, WPML will duplicate this page,post,project for each of your language. This means, If you decide to deactivate the wpml plugin any time later, you will have multiple/duplicated pages,posts,projects.
Translate the theme related words/strings
When making your site multilingual, you will see some theme related words/senteces which you can't change. For example "Next Project" in the single portfolio navigation. You need to install the "WPML String Translation" plugin. Thanks to this you can translate any theme related string.